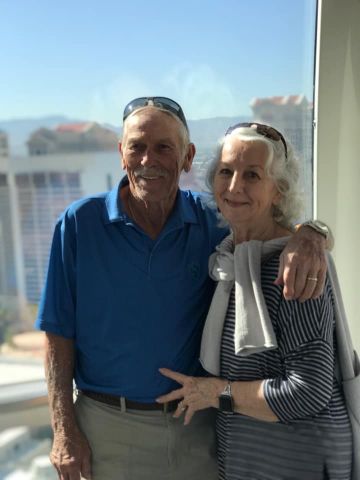 Henry's Restaurant in Kill Devil Hills is proud to be a family-run business. We (Henry and Linda Ezzell along with our daughter, Kim Ezzell Parker) opened the restaurant in 1989 after 11 years of operating the food service at Duck Woods Country Club. With so many fine-dining establishments in the area, we wanted our new restaurant to offer simple, no-frills American-style food that would appeal to all ages, and with the location on the Outer Banks, seafood was a given. We wanted our restaurant to be affordable for families and to make everyone feel welcome in a down-to-earth atmosphere with friendly staff. Thanks to these priorities, over the last 30-plus years our family and staff have created a loyal following of customers who feel like family. We love welcoming families who have been dining with us for generations and being a part of their Outer Banks dining traditions.
Our children always pitched in at the family restaurant, and today Kim is part owner and manager. Kim married a fourth-generation Outer Banks commercial fisherman, a family connection that brings fresh, local seafood to our customers' plates. Kim's daughter, Brittney Overton, is now assistant manager. Linda continues to work in the restaurant, as does Henry, though he prefers to be in the office, behind the scenes.
Our family works very well together, and we couldn't do it without our staff of loyal employees, some of whom have been working at Henry's for 20 and even 30 years. All of our staff members strive to make customers feel welcome and well-fed, and they are a big part of Henry's success.
Henry, Linda, Kim, Brittney and the entire Henry's Restaurant family look forward to seeing you in the restaurant soon!